Choice of Pro Drummers Worldwide

Join top pro drummers who use the patented Ring-Arrestor Drum Mufflers as their secret-weapon to enhance the sound quality of their snare drums and toms!
The design of these unique drum mufflers effectively eliminates unwanted frequencies and overtones without choking the drum head or causing resonance loss. Drum Ring is controlled and tone of the head is more focused.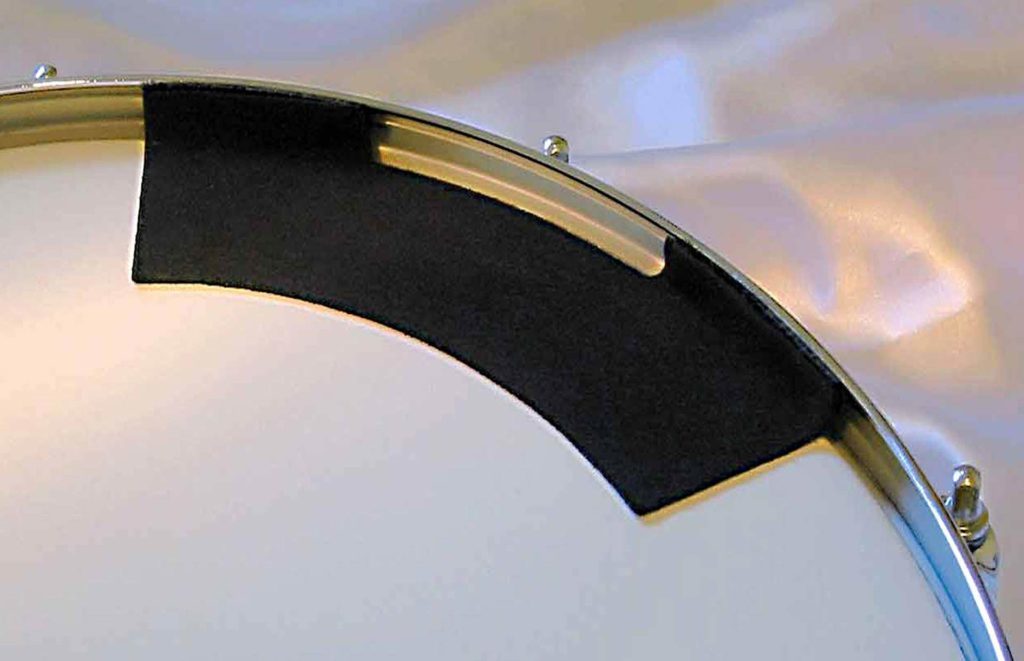 The Drum Muffling Solution
The Ring-Arrestor Drum Mufflers effectively eliminate ringing and are completely silent. Simply attach the suede to the inside drum rim with velcro for studio or stage use.
The mufflers will fit drums from 10 to 16 inches in diameter. Two can be used on a single head for stubborn overtones or ringing. You can easily customize them to your own taste.
Drummer designed for durability and long term use. The mufflers are manufactured in the U.S.A. and individually packaged.
Try them RISK FREE and see why professional drummers worldwide rely on Ring-Arrestor drum mufflers as their choice for great sound. Controlling overtones and ringing has never been easier.


Simple & Secure Purchasing
Price is $4.89 each, a 30% discount off the list price of $7.00 USD. Visa, Mastercard, Discover, American Express and PayPal are accepted. Orders are shipped out within 2 business days by First Class USPS Mail. The drum mufflers will be packed and shipped safely.

Drum Industry Reviews
"Please Consider This An Endorsement To All Drummers Having That Awful Ring Problem, Especially During Recording. Using Ring-Arrestors Has Worked Wonderfully For Me. Your Engineers Will Love Them Too! Happy Drumming, Happy Recording, Happy Life To You All!" Hal Blaine, legendary studio drummer who played on 40 #1 songs!
"There Was Just So Much Sound From The Drums That Control Was A Problem. As A Result, I Had To Muffle The Toms Slightly Using Ring-Arrestors And Roll Off A Little Low End On The EQ Settings. What Came Out Of The PA Speakers Was Nothing Short Of Devastating!" Modern Drummer Magazine - Brady Drumset Review
"The Zildjian Snare Drum With The Ring Arrestor Proved To Be The Ultimate Combination." Modern Drummer Magazine - Zildjian Snare Drum Review
"We have examined the Ring-Arrestor and found it effective at reducing drum overtones and unwanted ring. As a matter of fact, we've had several recommendations from other drummers about the product." Modern Drummer Magazine - Rick Van Horn


Customer Reviews
Unsolicited & Verifiable
"AWESOME!!!!!! I am in the middle of a recording project, and I have tried everything from m---n gels, r--o, to paper towels! Your product is the bomb! Very unique, and high quality. Attractive too. They make my Bubinga kit more focused in the mix, with no subtle inharmonic overtones, or nasty ringing....PERFECT!!!!!!! I will include you in my list of credits. You made my year!!!!!"
"Your product excels in every way. In the 90s Yamaha made a drum muffler and back then they were the bomb. They stopped making them, but yours even excels those and are far superior in material, shape and performance. From all us working drummers - THANK YOU. They are the greatest."
"After reviewing more than 5 different technology approaches to drum muffling, yours seems to be the best design out there - great investment in quality drum sound. Thanks for your simple, and ingenious design. All the reviews on your site really gave me confidence that this was the right direction, and I agree with everything they said. Kudos to you for helping drummers around the globe solve a huge and annoying problem. With this simple device, you are helping drummers get a significantly cleaner and more usable drum sound."
"I received my Ring-Arrestor drum mufflers last week and I very pleased with their performance. They are by far the best drum mufflers on the market. I have spent so much time trying to achieve that perfect sound out of my drums but never have been able to achieve it. But thanks to the ring arrestors I can now get the sound I want with little effort. Thank you for making such a great product. I will be placing another order soon."
"The Ring-Arrestor drum mufflers arrived safely and are now fitted to my drums and working perfectly. What a neat solution. Wish I`d known about them before now!!!! So thank you very much for your excellent International service with these, and rest assured, I will be recommending these to all my drumming friends, and I`ll be back in the future if I need some more!!!"
"Received and installed the drum mufflers and gotta tell you, AWESOME. Just what I was looking for. I even put one on my snare and got the results I was looking for. I can change heads without destroying the mufflers. Cool idea, wish I'd thought of it."
"I put the first couple of sets I ordered from you on a cocktail set I use in a bar band and the second set on a set of Pearl Exports that I just acquired. I have been playing since highschool and have battled with every set of drums I have ever owned to get the right tone. Your Ring-Arrestor drum mufflers are the answer. Great product, and very simple to use. Thanks so much."
"The Ring-Arrestors work phenomenally!!!! Thank you so much for inventing this. Who knew that something so small and simple could work so great! Again thanks a lot."
"Had to let you know what a great product your Ring-Arrestors are! Our drums have never sounded so good! I'll be recommending them to anyone who asks! Ringo should have used these instead of the sheets! Thanks again."
"Simply put, these muffling devices are great. I took one for a test drive on my snare and I was pleasantly surprised. It provided muffling the way I like it and I can see where it will work perfectly when I pack up my drums and carry them around. I've used "O" rings in the past, but I think these should be a lot handier and nearly impossible to lose. I would highly recommend these to any drummer."
"The drum mufflers have been incredible! Got them just in time to do some recording. My drums sound FABulous! The tone is great....no ring.....just the sound I want to hear! I'm sure I will be ordering more for my other kits! Amazing. Thanks!!!"
"Wow, this thing is really great! I had been having trouble getting my snare to sound right, but I must say this seems to have fixed the problem. Just the right amount of muffling. It also looks nicer than some of the other muffing devices I've seen."
"Got the mufflers - great design. I'm using them with a Tama Starclassic kit, which already has great tone. Your mufflers only make them better!"
"Yikes! A genius!!! Excellent product. Great idea. Better than anything."